"It is harder to raise a tear for the mentally ill." Our prisons have mental health Problems. The NHS can't cope with our society's mentally ill, so the crisis is hidden behind bars   The Guardian | Mentalillinprison Blog
https://www.theguardian.com/commentisfree/2014/may/31/nhs-cuts-mental-health-prisons
Mental health  Saturday 31 May 2014 19.05 BST 
Our prisons have mental health Problems
The NHS can't cope with our society's mentally ill, so the crisis is hidden behind bars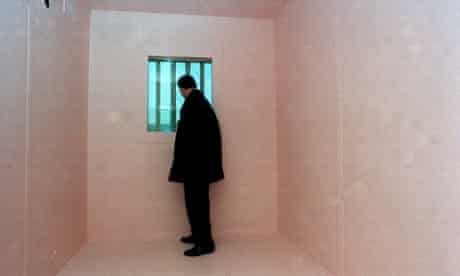 The government may not mean to kill people with mental disabilities but it's deeds, not motives, that matter, and when the coalition subtracted political cost from economic gain, it found those with disabilities were the easiest people in Britain to dispose of.Mental health is the NHS's Cinderella service, even in good times. In recession, it's hammered. Simon Stevens, the new chief executive as NHS England, has given us his priorities. He gabbles that he wants to "future proof" the NHS "against challenges ahead".
In plain English, he means cut budgets. He will insist on exceptions, of course, most notably for Britain's ageing population. No one dissents because we will all be old one day.
It is harder to raise a tear for the mentally ill.
We pity the "victims" of ageing and conventional illnesses and talk of their "bravery" because we can imagine ourselves in their position. Few talk of the victimhood or bravery of those who must live in a world where they are routinely bullied and despised.
Mental health trusts must save almost 20% more than conventional hospitals. Places of safety are vanishing, and people who ought to be mentally disabled patients are the inmates of the one British institution that treats them with greater disdain than the NHS. …. please read more  https://www.theguardian.com/profile/nickcohen